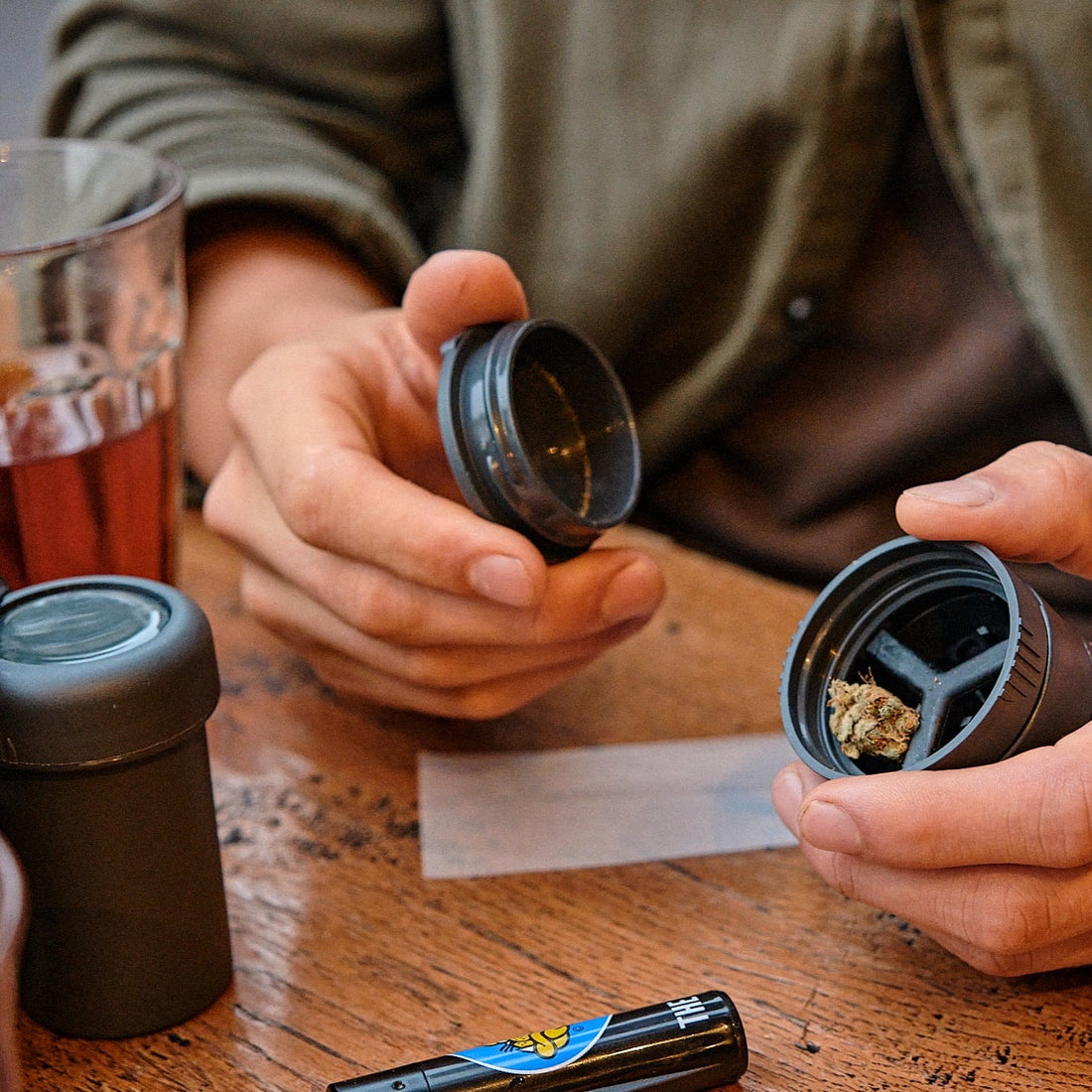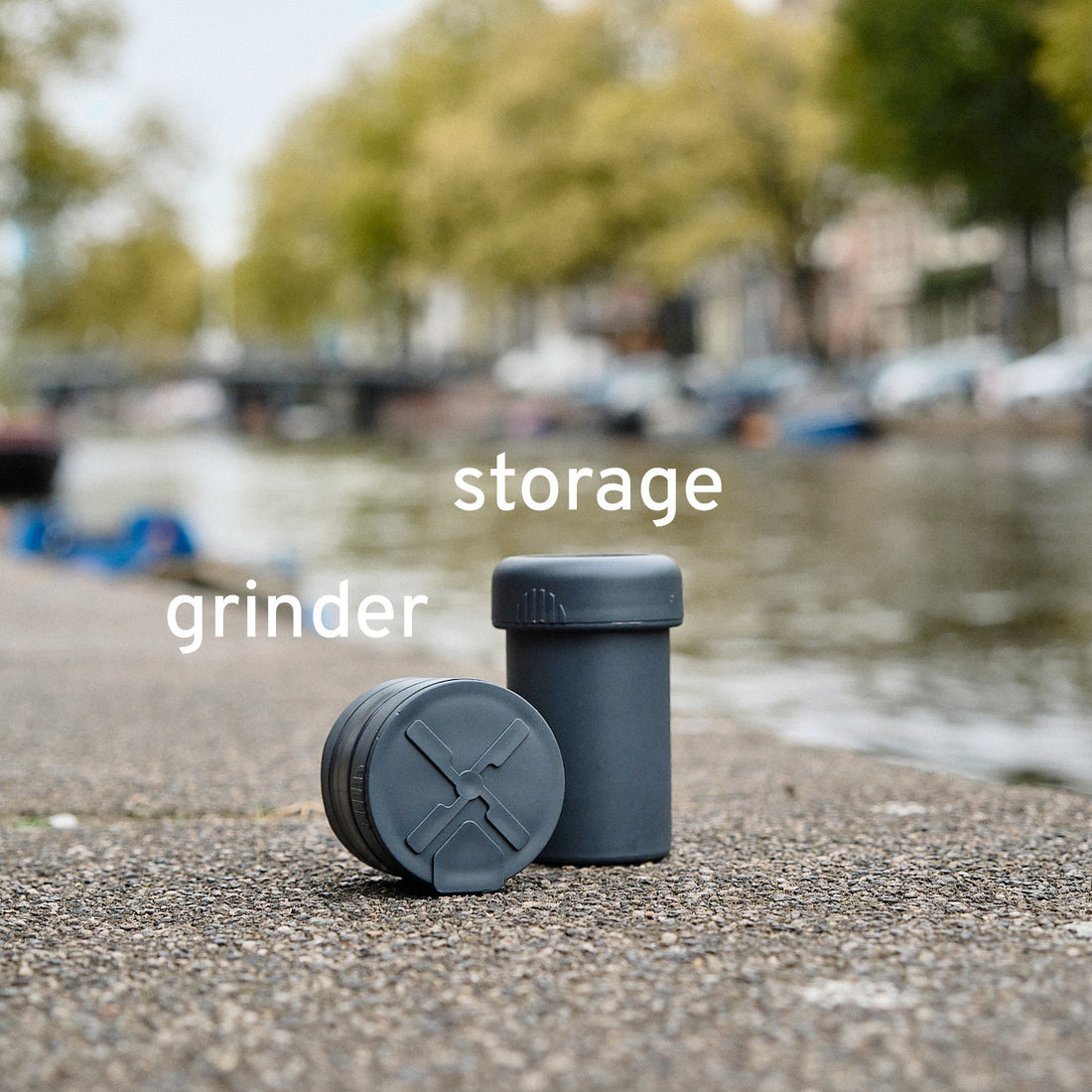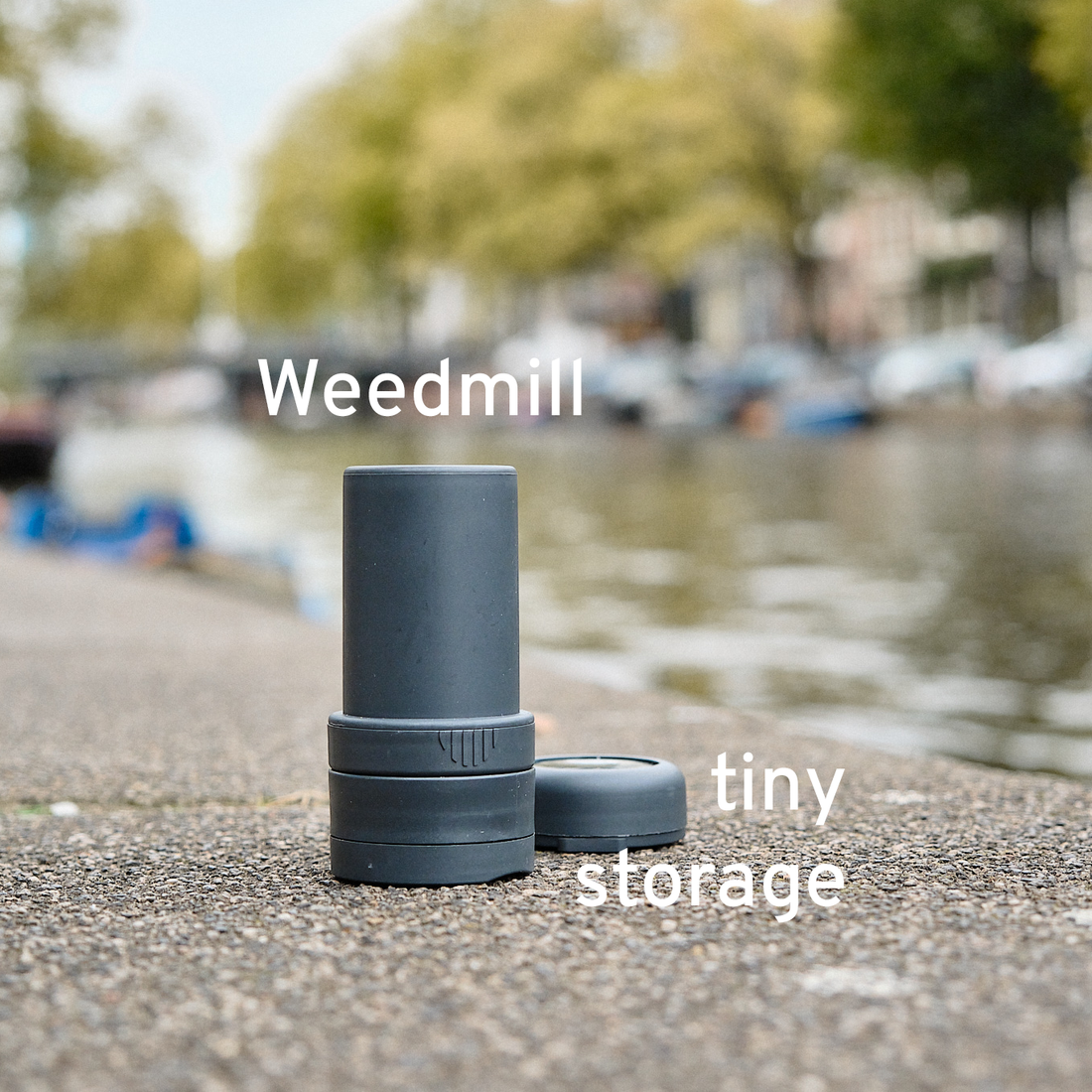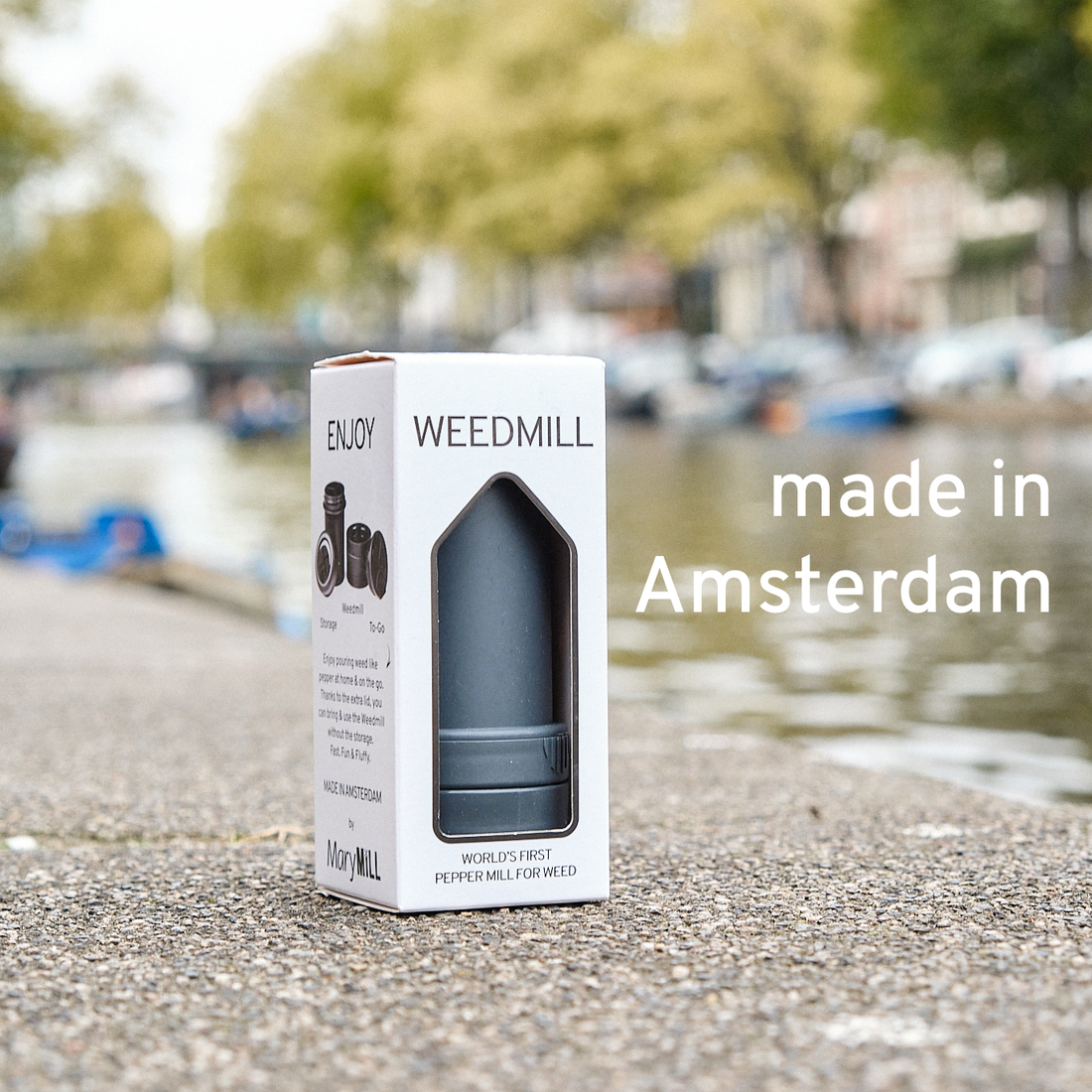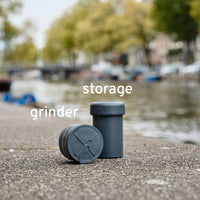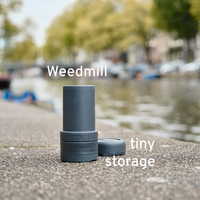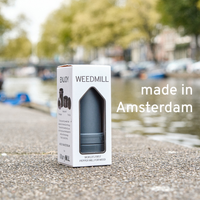 Includes: A grinder, a storage, a lid for both of them and a divider.
Order on a weekday before 15:00 = same day shipping
 30 day money back guarantee

 Made in Amsterdam
👇 More photo's here
On the Go: A portable mill
Or collect in the to-go cap like a normal grinder
Combine the two lids for a tiny storage
Make herbal blends with the divider (removable)
More Than a Grinder
The Weedmill is a thoughtfully designed accessory, intended to streamline and enhance your preparations at home and on the go, with maximum convenience. 
 Super convenient
Fast in use. Will not stick. Dishwasher friendly.
 Fluffy result
No Powder. Good air flow. Happy terpenes.
 Adapts to your need
At home. In the wind. Or undercover 
Meet the Weedmill: Fill. Mill. Enjoy.
The Weedmill consists of ten parts made from four different materials. 
The outer parts are made of >66% recycled polypropylene for flexibility and robustness.
The knives are made from a material as strong as metal to remain sharpness for years.
The material for the slide and base for the knives has been specifically selected to ensure long term smooth operation.
The thread for connecting the Weedmill and storage is made from an enforced material for an extra tight connection.
Shipping fees per country:
Netherlands: €6,75
Belgium / Luxembourg: €9,57
Other EU countries: €13,50
UK: 18,75
Order before 15:00 on business days, we ship the same day.
Geniale uitvinding! Erg handig en ideaal
Als smoker deed ik mijn voorraad altijd extra goed inpakken, om de geur zo goed mogelijk te beschermen. Ook m'n metalen grinder was te zwaar om elke keer mee te slepen, dus gebruikte vaker die plastic grinders. Deze gaan vaak vastzitten en met het schoonkrabben kwam er toch plastic vanaf.
Deze W33Dmill is echt een perfecte combinatie van opslag & grinder in 1. De geur blijft behouden en daarbij ook de versheid van het product, terwijl je heel makkelijk en prettig je voorraad kunt aanspreken, wat er in een goed gekruimeld formaat uitkomt. Daarbij is het een leuke gadgets waarmee je makkelijk, veilig en toch simpel je hobby mee kan uitoefenen. Ik ben zeer goed te spreken over het gemak en gebruik 'm dagelijks. Vele om me heen zijn geïnteresseerd en ik verwijs ze dan ook snel naar de website om 'm zelf te bestellen.
Super product de Wiet molen is de bom
Product er in draaien klepje open vullen vd vloe wil er nog wel een. Had het veel eerder moeten hebben ik zeg doen.
Top spul!
Heel leuke grinder!
Is makkelijk in gebruik zowel in de kleine als de molen vorm . Het kleine opslag dopje die je kan maken is echt goed bedacht zo heb je altijd je kleine hoeveelheid bij
Echt een aanrader voor iedereen die een makkelijk ,goede, en bedachte grinder wil
Greetz
Ben
Super handig
Super blij met de mary mill werkt goed en is erg handig met de opberg potjes erbij
Oke maar niet geweldig
Doet wat het moet doen, maar lastig goed schoon te krijgen. Vermaling niet perfect soms meerdere keren nodig. Het concept is goed, maar moet duidelijk nog iets verder gefinetuned worden.